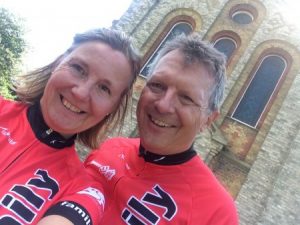 Shortly after 11am on 24th August 26 cyclists will set off from Trafalgar Square in central London to cycle over 230miles, finishing at the
Eiffel Tower in Paris on the 28th. We need your support and cheering on!
The group includes: 2 x fathers & sons; 1 x mother & son; 4 x couples, a few odd chaps (and some are very odd …but very nice) plus one brave lady. There are sure to be some sore 'undercarriages' …as well as some fun!
FOLLOW THE ACTION
You can follow all the action via the hugely popular FamilyLife cycling blog. This year there will be video blogs too. Check out the website for all the info as well as route details. SIGN UP on the website to get the blog updates straight into your email inbox!
You can also catch the action via social media: the FamilyLife Facebook page  and FamilyLifeUK on Twitter 
DONATE
We are trying to raise £60,000 for our new and innovative digital resource, which will help thousands of families. There is more about that below. The FamilyLife team would be incredibly grateful for any donations. You can donate to support the team at virgin money HERE.
WHAT'S THE MONEY FOR?
FamilyLife wants to give every person in the UK the opportunity to experience transformed relationships. We are currently working on a unique and exciting digital resource, an 'app', that will be able to do just that …reach every person in the UK, and beyond.
Our app brings together in a fun and engaging way the best of the practical tools from our existing resources and lots of NEW features, combined with video clips from normal couples sharing real stories. The great thing is that anyone will be able to access this …any time and any place!
Work on our digital resource is well under way. We need an additional £60,000 to take the resource from test module to live web app with potential to help strengthen thousands of families.
You can find out more about the app, called Toucan, on the website where there's a short introductory video. You can even sign up and take a peek at the test communication module. Its all here …click an BE INSPIRED!
Until we reach Paris, our motto is:
KEEP CALM AND PEDAL ON!
Christine Daniel, August 2016