FamilyLife bring you an hour of open, engaging conversation via a Zoom webinar to give you inspiration, hope and practical insights for your relationship.
Join us for an hour of raw, real life relationship stories with Couples Talk. You'll hear open and honest interviews to give you encouragement and support for your relationship.
Whether your relationship is flourishing or you need some encouragement to keep going, we all need to give time to our relationship – even a great marriage can be improved!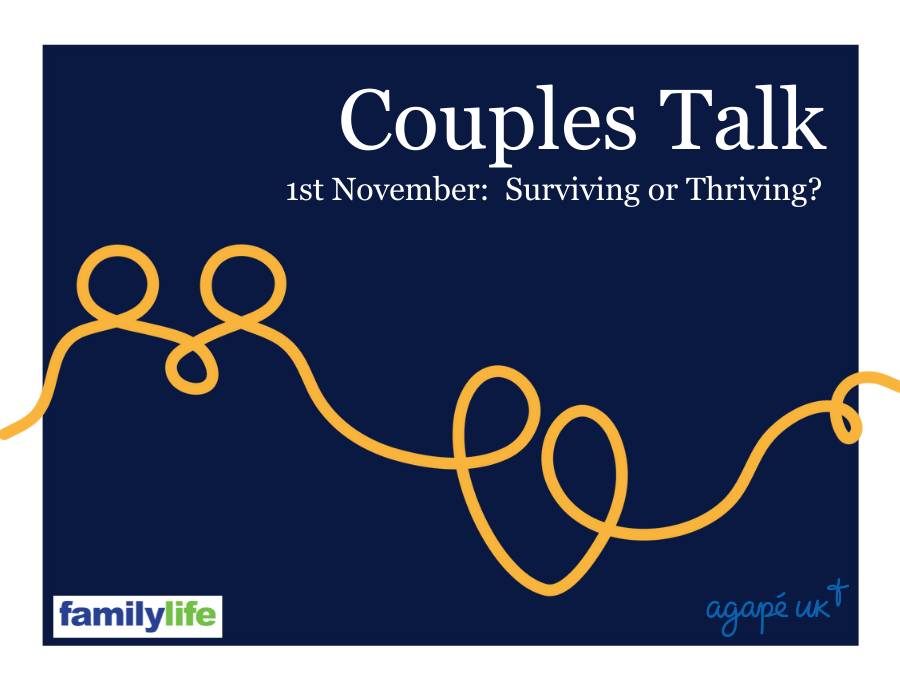 Dates for your diary
November 1st: Surviving or Thriving Through the Different Seasons of Love.
With Jan & Gary Palmer
December 6th: Doing Christmas Well
Can relationships really last a lifetime? Is it about surviving or thriving? Jan and Gary Palmer will take an honest walk through the first 38 years of their relationship and share some candid stories and their answers to these questions.
Gary and Jan have been married for over 31 years after getting to know each other in one of those 'next desks at work' romances. They live in Buckinghamshire and have three children, Amy and Josh (both now married) and Meg, and two loveable black labs. Being grandparents is a new and exciting chapter for them. Following a long career in IT, Gary now focusses on adding value where he can, in various organisations in the charity sector. This is through trusteeship, running projects, and consulting on improving operational efficiencies. Jan was a Computer Consultant until the challenge of juggling 3 children, a job and church responsibilities required something to give – it was the job that went. After a 19 year career break she has returned to the IT contract world! She's also been part of the team developing Toucan. In the gap, she qualified as a life coach and spiritual director, work which she continues to carry out today, alongside everything else. They've been involved in running youth groups, parenting courses, marriage preparation and marriage enrichment through conferences, seminars and small groups. Gary keeps hold of his rugby boots, although he is coming to terms with the sad thought that he will probably never play another game! Jan dabbles in singing, art and all things creative.
Do you ever ask "why isn't our relationship the way it used to be?" or think things have changed and wonder if there is something wrong? You might be relieved to know that there are definite seasons in a relationship and that it is possible to thrive, not just survive through them all. Jan & Gary have plenty of experience in this (both surviving and thriving!) and will take us on a journey through these different seasons, drawing on their own extensive experience and looking at the recognised phases of relationships.

How it works
Couples Talk happens as a zoom webinar. This means you will join with no video and be already muted. BUT you will be able to interact fully via the chat box and there will be time for your questions to be answered. You'll also receive our TAKEAWAYS …these are next steps to help you grow a stronger and thriving relationship together.
Booking
As this event is our gift to you Entry is FREE, although you will need to pre-register. If you are living in the same place as your partner, please register for 1 ticket and use the same device to connect to Zoom. (Please check your junk/spam folder for the zoom link, if you cannot see it after registering).
If you are in separate locations, you will need to register for 2 tickets, so
you can use more than one device to access Zoom.
Please register here
Events will also be live-streamed onto the FamilyLife Facebook page but to enjoy the most interaction and access to the Q&A we recommend registering for the webinar.

You can see our library of previous Couples Talks and the takeaways by clicking here.

In case you need more convincing, below is some feedback from those that have attended a Couples Talk event already.
"Come along and be blessed. You may well hear couples talk about an issue that you're facing and find a way forward."
"Thanks Family Life, these couples talks are so useful and helpful."
"We have a good marriage and are very committed but life is difficult . To listen to strong couples encourages us. It is important to us is to be intentional to seek out such encouragement and hear others' stories because it usually sparks a valuable conversation; this is fruitful for our marriage. Thank you."
"Thank you for sharing your story it's been very encouraging and it helps us to keep believing we can get through difficulties."
Whilst we don't charge for our events, FamilyLife is a charity and is funded by donations. If you would like to donate to FamilyLife you can do so here.
Follow us on Instagram, Twitter or Facebook for regular updates on upcoming events so you don't miss a thing!