Bringing you an hour of open, engaging conversation via Zoom to give you inspiration, hope and practical insights for your relationship.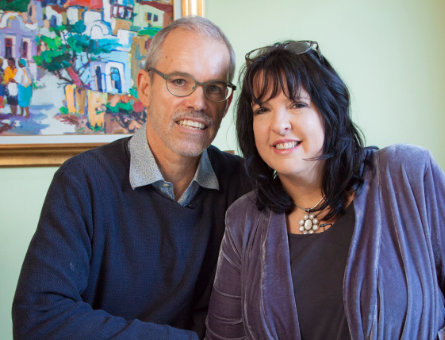 Monday 22nd June 2020
8-9pm …with optional Q&A until 9:30pm
It's MORE than conversation, with interactivity and "takeaways" …read on!
This time your hosts will be Mark and Christine Daniel, Authors, Speakers and Directors of FamilyLife UK who will be interviewing Etienne and Karen Van der Poll (pictured). The couple came close to divorce after they moved from South Africa to the UK in 2000 and now help other couples to build strong marriages. Their family life was rocked following a tragic accident two years ago, which once again tested their marriage. But Karen and Etienne are coming through an exceptionally challenging period with an even stronger marriage, resilience and gratitude for what they have, which we can all learn from.
JOIN US to find hope, inspiration and practical support for your relationship in these challenging times.
On the night…
Tune in with audio only if you feel like simply watching and listening. Or interact fully via the chat box, because there will be time for your questions to be answered. You'll also receive our TAKEAWAYS …these are next steps to help you grow a stronger and thriving relationship together.
As this event is our gift to you Entry is FREE, although a ticket is required. If you are living in the same place as your partner, please register for 1 ticket and use the same device to connect to Zoom. If you are in separate locations, you will need to register for 2 tickets, so you can use more than one device to access Zoom.
Testimonials from a recent Couples Talk
"Enjoyed the fact that we aren't on our own with the situation. My first zoom call as well."
"It's been great. Our big takeaway is communication, creating a safe space to talk together. It's never a Win/Lose situation – it's Growing together."
"A very good blend of personal transparency in the contributors, and clarity, sharp focus on some clear-cut, identifiable how-tos."
"Takeaways" – from the event
Key insights from the evening, links and things to talk about as a couple …
Key resource: Toucan Together is the app for couples to help grow a thriving relationship.
Toucan: https://toucantogether.com
Toucan blog: https://toucantogether.com/blog
Five common relationship challenges we all face
Our differences. Gender, personalities, backgrounds, expectations and values.
50:50 performance model. This says: "I'll do my bit if you do yours"…. it is conditional.
Tough times. The way we respond to the seasons of life and hard times can make or break relationships.
Affairs. Seeking fulfilment outside of the relationship to fill the gap of what is missing.
Self-centredness. Our natural tendency to put our thoughts, feelings and needs first.
Key takeaway(s)
Work as a team; play to each other's strengths and cover weaknesses
Focus on the problem together, keep the problem as the problem.
Be intentional in looking after your relationship, not just when there's a stick patch or problem.
Questions for discussion with your partner
Which two of the five common relationship challenges affect your relationship the most at the moment?
Take one challenge that you'd like to talk about now. Take turns talking and listening about how the challenge affects you. (If you are not facing particular challenges at the moment, then talk about what you can do to protect your relationship from any of the five challenges in the future. )
Talk about how you can play as a team.
Make a donation
Couples Talk is free – we want to bless you. Help us to bless others by making a donation, big or small will help other families. DONATE HERE.
Be the first to hear about future Couples Talk events
Help your relationship stay strong by signing up for our monthly e-news and blog. SIGN UP HERE.