FamilyLife bring you an hour of open, engaging conversation via a Zoom webinar to give you inspiration, hope and practical insights for your relationship.
Join us for an hour of raw, real life relationship stories with Couples Talk. You'll hear open and honest interviews to give you encouragement and support for your relationship.
Whether your relationship is flourishing or you need some encouragement to keep going, we all need to give time to our relationship – even a great marriage can be improved!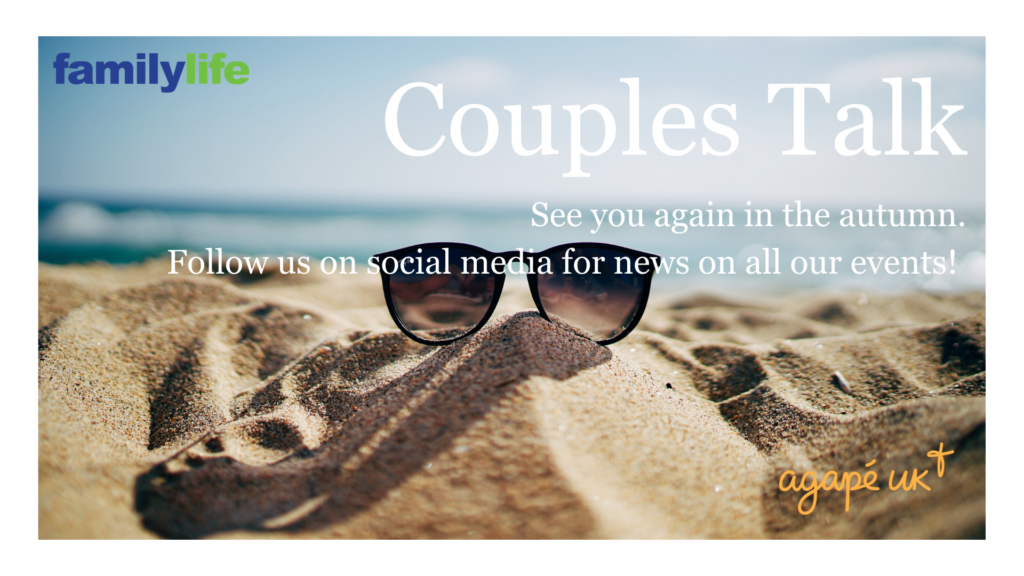 Dates for your diary
We are taking a break over the summer but will return with Couples Talk in the autumn.
Provisional dates for the autumn are:
October 4th, November 1st and December 6th.
Follow us on Instagram, Twitter or Facebook for regular updates on upcoming events so you don't miss a thing!
You can see our library of previous Couples Talks and the takeaways by clicking here

How it works
Couples Talk happens as a zoom webinar. This means you will join with no video and be already muted. BUT you will be able to interact fully via the chat box and there will be time for your questions to be answered. You'll also receive our TAKEAWAYS …these are next steps to help you grow a stronger and thriving relationship together.
Booking
As this event is our gift to you Entry is FREE, although you will need to pre-register. If you are living in the same place as your partner, please register for 1 ticket and use the same device to connect to Zoom. (Please check your junk/spam folder for the zoom link, if you cannot see it after registering).
If you are in separate locations, you will need to register for 2 tickets, so
you can use more than one device to access Zoom.
Please register here
Events will also be live-streamed onto the FamilyLife Facebook page but to enjoy the most interaction and access to the Q&A we recommend registering for the webinar.

In case you need more convincing, below is some feedback from those that have attended a Couples Talk event already.
"Come along and be blessed. You may well hear couples talk about an issue that you're facing and find a way forward."
"Thanks Family Life, these couples talks are so useful and helpful."
"We have a good marriage and are very committed but life is difficult . To listen to strong couples encourages us. It is important to us is to be intentional to seek out such encouragement and hear others' stories because it usually sparks a valuable conversation; this is fruitful for our marriage. Thank you."
"Thank you for sharing your story it's been very encouraging and it helps us to keep believing we can get through difficulties."
Whilst we don't charge for our events, FamilyLife is a charity and is funded by donations. If you would like to donate to FamilyLife you can do so here.