Romance, joy, anxiety and excitement are just some of the things couples typically experience in the early days of relationships and many hope that they will always feel the same heady feelings of being 'in love'. But, relationships don't stay the same, they are always evolving as people encounter the natural highs and lows in life as well as deal with changing dynamics as a couple.
Facing struggles is inevitable, the question is: will you grow stronger through them, or will they drive you apart?
FamilyLife's app for couples: Toucan Together has released a 'Growing Module' to help couples grow and stay strong through challenges, strengthening commitment, intimacy and trust. The module identifies 5 common relationship challenges and empowers couples to manage them positively. The module also looks at key ingredients for a lasting, thriving relationship and what makes marriage special.
Christine Daniel, project manager for Toucan says: "The Growing Module is helpful for couples who are dealing with any sort of issue because Toucan gives them such great resources, which they can access any time online. But the Growing Module isn't just for couples with problems, the topics covered give every couple the opportunity to grow their relationship and to lay strong foundations to deal with challenges in the future. The module empowers couples to look at marriage from fresh perspectives so it's great for those who've never considered marriage, couples preparing to marry and those who've been married many years. You can see why I think the Growing Module is so fantastic!"
Christine goes on to say: "There's often a taboo about admitting struggles and yet we all have them, perhaps they are harder to talk about in our world of instagram gloss. The Growing Module is I think my favourite so far because the video couples sharing their stories are so honest and there is so much brilliant content to empower people!"
Pamela Duffy, MA, MBACP (Accred), ACC (Accred), is a Relate counsellor with many years experience: "Couple counselling can be difficult to locate and access, is time consuming and expensive and often only considered when a relationship has hit a critical stage of breakdown. In a world where couples face many challenges to build and grow strong and happy lives together that will last a lifetime, resources like Toucantogether can make a big difference to the quality and resilience of the relationship they share."
Toucan brings together 20+ years of experience and scientific research to give it's users great relationship skills. The result is that 91% of Toucan users report relationship benefits.
Sir Paul Coleridge from the Marriage Foundation described Toucan as 'a powerful new app' which is 'fun and motivating', while Katharine Hill from Care for the Family commented it was 'easy to use' and 'perfect for busy couples on the go'.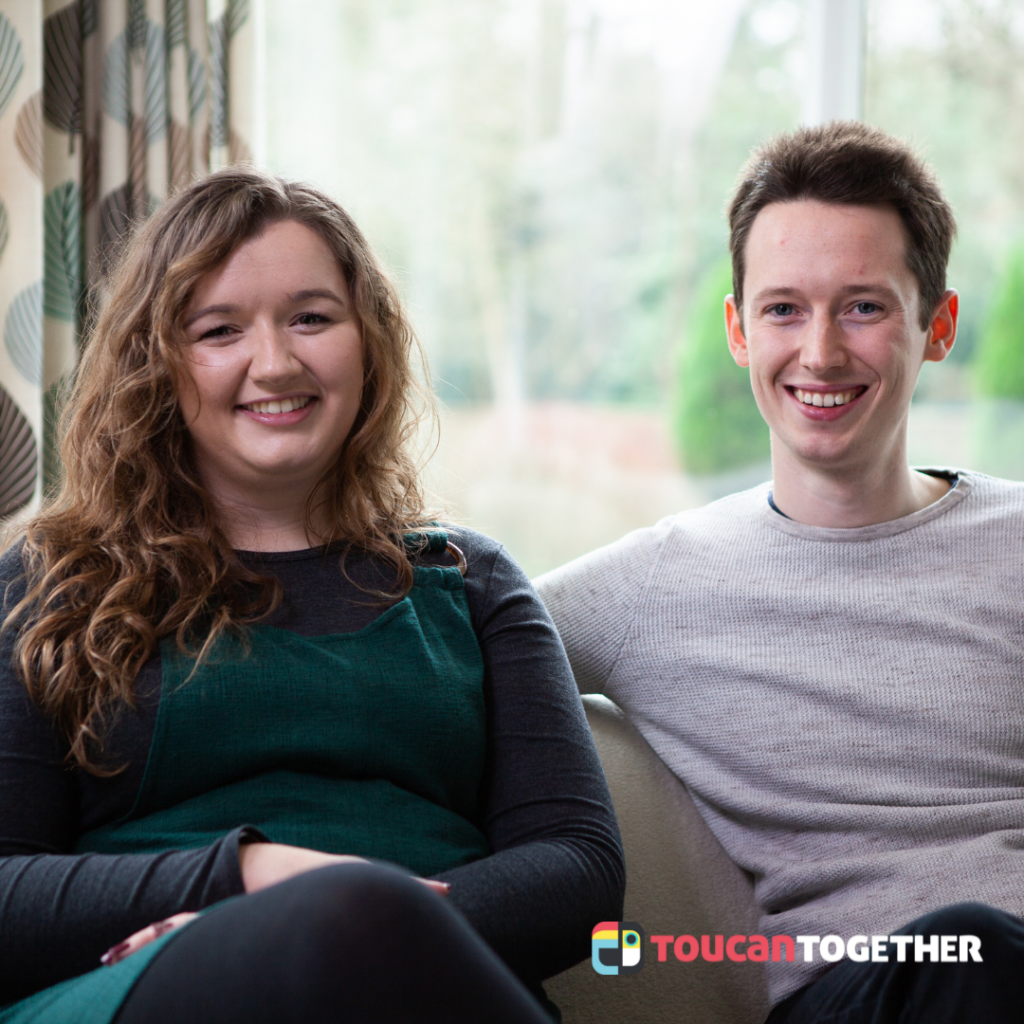 Toucan is an app developed by FamilyLife UK – a ministry of Agapé UK – which provides a unique online series for couples to invest in and strengthen their relationships in a way that can easily fit in with their busy lifestyles. It is available from the App Store and Google Play. Toucan brings together practical relationship tools with video clips of couples from a wide range of backgrounds and ages sharing their experiences, alongside interactive exercises, fun quizzes, engaging animation and eye-catching graphics. Toucan's main aim is to strengthen relationships by helping to: • build friendship and greater intimacy • develop and deepen communication • resolve conflict in healthy ways • learn to speak each other's Love Languages • deal with tough times and grow a vision for marriage • manage money well together.
Toucan Together can help you improve many aspects of your relationship. Get started by taking the​ 'Pulse' of your relationship with our short research-based quiz and see the health of your relationship across seven key indicators.GET STARTED NOW | FIND OUT MORE