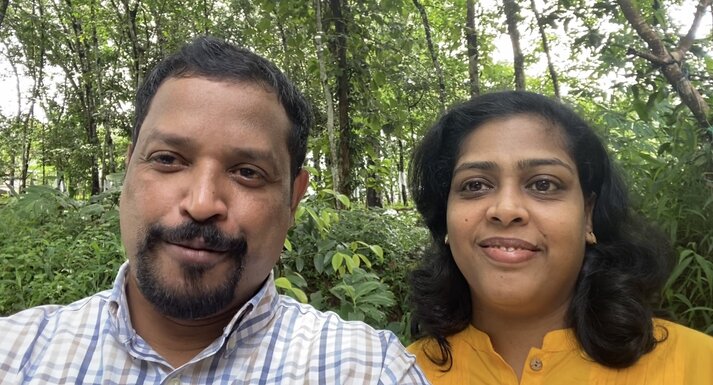 Together is FamilyLife's marriage discipleship resource. We think it's brilliant and we love hearing about Together groups being run by churches, friends and people completely unrelated to us! Why do we get excited by this? Well, the best ratification for our enthusiasm is from the feedback of couples who have gone through Together.
Let me introduce you to Roy and Anu.
Roy and Anu have been married for 17 years and live in Mumbai. They are friends of FamilyLife team members Biju and Sissy in Liverpool. Biju was instrumental in Roy coming to faith some thirty years earlier. Biju, didn't see why a global pandemic should prevent couples from benefiting from Together so he set up a group over Zoom which meant the usually prohibitive 7500 miles between them was no longer a problem! Along with three other (UK) couples Biju and Sissy's Together group was complete.
As Roy said after, Together is fun and you learn a lot from each other as you share stories.
So how does Together work? There are nine sessions covering a whole range of relationship topics, from communication, emotional intimacy, God's purpose for marriage to living with your differences and handling feelings constructively. Each session is based on biblical principles, and explores scenarios, questions and insights into the topic of the session.
But here is what is unique, and I think the best thing about Together: All the deep relationship stuff is done, not in the group, but in your scheduled 'Couple Time' outside of the group, where you can be really honest with each other in private!
For Roy and Anu, it was during these couple times that they felt the biggest impact.
"The couple time was what made this program so unique for us. We could talk about issues that we would have never spoken about otherwise. This has helped us to be more transparent with each other. We have seen our marriage grow to the next level…..The couple time was set up in such a way that we could speak to each other positive things and also talk about things that we never spoken about before."
In particular, Roy and Anu talk about how there were issues and wounds from the past which they had buried. "discussing those things with the right attitude really helped us to become closer and wounds healed ."
Together is also very practical. Each session guides you through things to discuss later in your couple time about practical steps to take and changes to make. Roy gives the example of how surprised he was to discover that one of the best ways he could communicate his love for Anu was to clean the kitchen! A small change with a big impact.
So what next for Roy and Anu? So convinced by the effectiveness of Together, they wanted to start a Together group 'immediately' with some of the christian leaders they work with across India. They are currently facilitating a group online with couples representing five states across India, "We are also working on getting the Together group material translated into Hindi. We have many languages and Hindi is the biggest. We are starting with it and the people who are in the group can use the Hindi language also. We are asking all of them to train a batch of pastors in their sphere of influence so that we will have a ripple effect in different cities in India."
Now that's an exciting vision!
And that is the beauty of Together, it doesn't need to be run by experts but is easily reproducible and transferable. FamilyLife has lots of helpful resources to get you started with your own Together group. You can run a group in person or online, either way you will be helping invest in your own marriage and others and seeing them 'grow to the next level'.
Together is not a typical 'marriage enrichment course' nor just a Bible study on marriage. Rather it helps couples to get closer to each other and to God, in practical ways.
For more information visit our website: https://togetherinmarriage.org
This article is featured in Agapé's latest fabulous Move magazine. To view the full magazine click here.