When a certain TV presenter left his wife and two children he was applauded for his bravery and being true to himself. Last week, when hundreds of thousands of people queued for ten-plus hours to pay their respects to her late Majesty as she lay in state, this same presenter used his VIP privileges to avoid waiting in the queue. He has since been lambasted by the press and public alike. So, whilst the public is happy to overlook the ending of a 27-year marriage, jumping a queue that the average person saw as an honour to wait in, provoked outrage.
This is not meant as a dig at said TV presenter but more a reflection on whether we may have got our priorities wrong here (and I'm a stickler for observing queue etiquette like any other self-respecting Brit). But since the Queen's death I have been struck by the values which people in this country and across the globe have praised and celebrated, values of which the Queen's life was a shining example.
In a culture saturated with celebrity gossip and the mantra of "remember that you always come first" (yes, this was actually on a t-shirt in Primark this summer), it is reassuring to know that we do recognise and celebrate values of servanthood, duty, faithfulness, humility, wisdom, sticking to the promises you make and caring about others.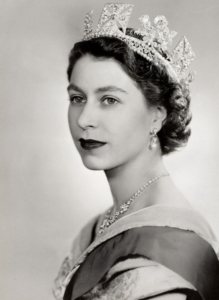 Queen Elizabeth truly was a remarkable woman.
Of course, she lived a life of luxury and privilege, whether she chose it or not! But she also understood and lived according to the huge responsibility given to her, whether she chose it or not.
On her 21st birthday the Queen famously promised:
"If we go forward together with an unwavering faith, a high courage, and a quiet heart, we shall be able to make of this ancient commonwealth, which we all love so dearly, an even grander thing – more free, more prosperous, more happy and a more powerful influence for good in the world … To accomplish that we must give nothing less than the whole of ourselves. There is a motto which has been borne by many of my ancestors – a noble motto, "I serve." …. I should like to make that dedication now. It is very simple.
I declare before you all that my whole life, whether it be long or short, shall be devoted to your service, and the service of our great imperial family to which we all belong…..God help me to make good my vow, and God bless all of you who are willing to share in it."
Boy did she stick to that promise.
During the recent Platinum Jubilee we heard many stories of the Queen's unfaltering commitment to serve and her ability to build bridges in the most understated ways. Since her death, we have been reminded of those things and many more – of the impact of a simple handshake, an interested word, a phrase spoken in Gaelic, a dance with the president of Ghana or the personal yet bold words in her annual Christmas address. How many more have gone unreported?
For me one of the epitomising roles of our late Queen's service was her weekly audience with the prime minister. These multitude of conversations are indeed unreported and private, but we can confidently assume that they afforded a wealth of wisdom and experience which she shared. Even at the age of 96, meeting her fifteenth prime minister, retirement from this duty was never an option. From her first meeting with Winston Churchill to her very last with our new prime minister Liz Truss (who incredibly were born 101 years apart), she had seen, lived through and advised on every conceivable challenge of democracy.
But the Queen's commitment to her motto "I serve" was not just a result of her genealogy. It was borne out of her deep faith in the servant-king Jesus. As the Archbishop of Canterbury reminded us in his funeral address:
"Her service to so many people in this nation, the Commonwealth and the world, had its foundation in her following Christ – God himself – who said that he 'came not to be served but to serve and to give his life as a ransom for many.' "
And in her own words:
"To many of us our beliefs are of fundamental importance. For me the teachings of Christ and my own personal accountability before God provide a framework in which I try to lead my life. I, like so many of you, have drawn great comfort in difficult times from Christ's words and example." (Christmas message, 2000)
"This is the time of year when we remember that God sent his only son 'to serve, not to be served'. He restored love and service to the centre of our lives in the person of Jesus Christ. It is my prayer this Christmas Day that his example and teaching will continue to bring people together to give the best of themselves in the service of others." (Christmas message, 2012)
In her 96 years of life, her 73 years of faithful marriage and her 70 years as sovereign, she served. People from all walks of life, all cultures and nations, all faiths and none, recognise and know this to be a value to be celebrated. Let us follow her example and remember the example she herself followed.