'What Women Really Want' is a MEN ONLY event to try to fathom some of the mysteries of the women in their lives! Film clips and fun help to explore at the subject of love. It's delivered by the FamilyLife team and hosted by a church or community group. This event is ideally suited for a 'burger 'n pint' night or curry evening as an outreach.
What the FamilyLife team do
A FamilyLife speaker or speakers will share personal stories, film clips and fun exploring the subject of love from a woman's perspective. Naturally this is contrasted with a man's views! The speakers also introduce a helpful relationship tool, The Five languages of Love developed by Gary Chapman.
Mark Daniel, Director FamilyLife UK explains, "it's a light-hearted evening and yet there's a serious side because woven into the fun we contrast common cultural views about love with a practical Biblical perspective. We also explore ways that men can actively express love to their wives and girlfriends in the way that she needs and receives it."
Paul's experience
Paul Eddy, Curate of Grove Parish Church organised a burger + pint night at a pub near Wantage (home of the Williams Formula One team) to launch a new men's ministry.
Paul: "Two-thirds of those present that night were either un-churched men or had very fringe contact with church: some even came because of relationship difficulties! Mark and Gary skilfully and humbly spoke from the heart about God's best intentions for all relationships. They shared their own personal experiences, lessons learnt, and introduced Gary Chapman's Five Love Languages and the need to fill up each other's 'love tank'."
Paul added: "Not only did an 18-year-old say he had never thought about the need to 'give out in love' (what does that say about the impact the media has today), but someone who had been married for 28 years said he would take home the questionnaire, and discuss and implement it with his wife. For pastoral/confidential reasons I can't share more, but it is important that supporters of FamilyLife realise that evenings/events such as these have very significant impacts on relationships and families."
What a host does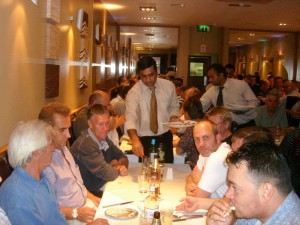 Anyone can host this event. A host needs to organise a suitable venue, some hospitality, invite men and provide a warm welcome!
Good venues include pubs and clubs, and Indian restaurants (especially on quiet nights like a Monday). You could also use a community centre and have food and drink brought in.
Multimedia is helpful but not essential because arrangements can be made for the FamilyLife team to bring a projector, screen and sound equipment.
The host needs to actively publicise the event and get the men to come along. Twenty men is a minimum number.
If you want to find out more please contact us.