Join us for our next Couples Talk in 2022
Our next Couples Talk is on January 31st when we'll be chatting to Lyn and Andrew Griffin about how they have learned the value of fun in their relationship.
And then on March 14th we'll be interviewing Emma Waring, a sex therapist, on the theme of 'Between the Sheets'.
You won't want to miss that!
Winging It!
Andrew and Lyn have been married for two and a half years. It's still fresh enough to count the months! Andrew is Texan and Lyn is UK born although she grew up in Southern Africa. They currently live in Rome, and are preparing for yet another move. Unsurprisingly, because of their International roots their life together has been one of constant transition, but they now have each other to call home.
They both work for the relationship wellness app Toucan Together and are passionate about seeing people and their relationships thrive. In addition to their jobs Andrew is an avid outdoorsman who is never happier than when he's on top of a mountain and Lyn is a visual artist, always learning a new medium and she is happy to go along for the hike if there are snacks provided.
After dating long distance for 2 years they got married and soon after they were locked down in a small apartment. Circumstances presented a challenging start to their marriage and after realising how much they were struggling from the weight of life, having fun together became a priority for Andrew and Lyn.
Chatting to Lyn & Andrew will be Oli & Brianna Gregoriou: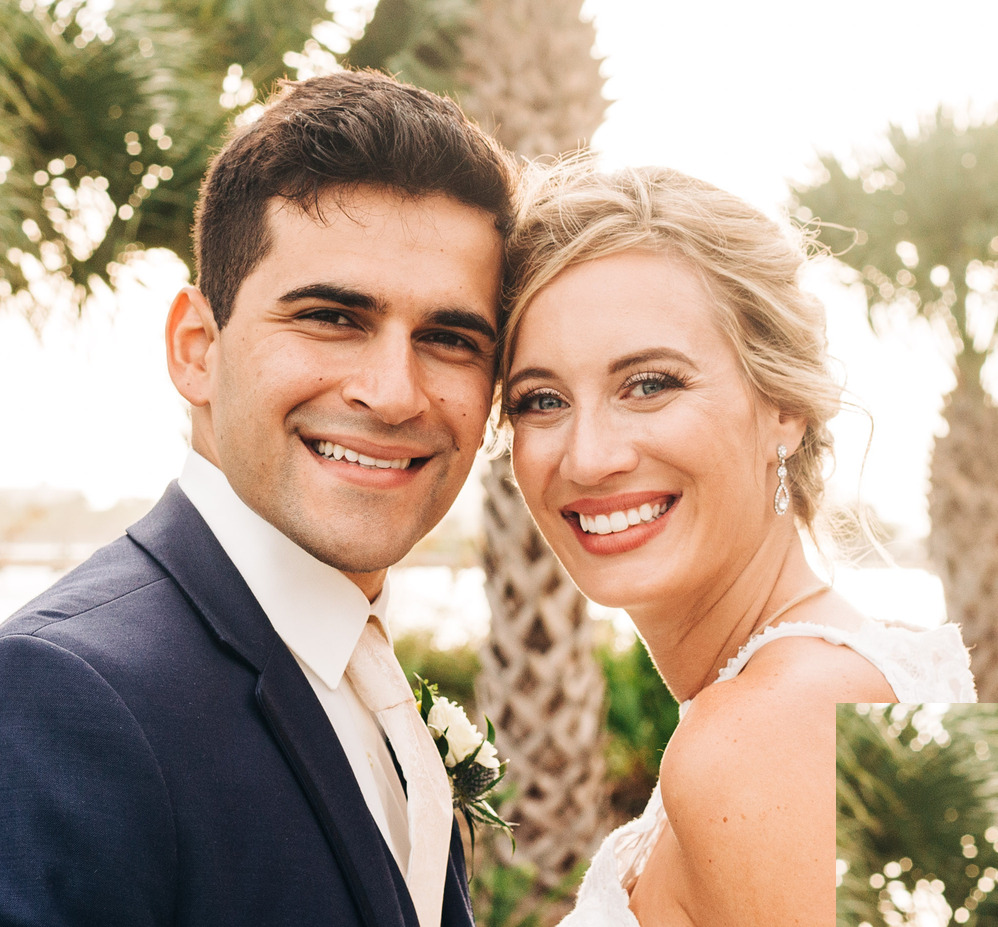 Oli and Bri have been married for a little over a year. Bri is a Floridian born and raised. Oli spent the first 8 years of his life on the island of Cyprus, before his family moved to the UK, and has spent the last 8 years in London. They have lived in London together since Bri's UK spouse visa was approved last November.   
Oli leads the London student team for Agapé and is currently working on a diploma in Learning and Development. Bri is a writer for StoryRunners, (part of Agapé's parent organisation in the US) who takes the good news of the christian faith to oral learners in unreached people groups. Oli loves to cook and Bri loves to eat. A match made in heaven! They like to explore the city together in their spare time and visit each other's coastal home towns. They like their island personalities, but have a big heart for the people of London.  
After dating long distance for 2 years, they moved into their apartment in London just in time for the 2nd lockdown in 2020. They went from never seeing each other to 24/7 quality time. They have used this time to dig into their values and God's calling on their life as a couple. It's a work in progress, but they're understanding themselves and each other more and more every day.  

How it works
Couples Talk happens as a zoom webinar. This means you will join with no video and be already muted. BUT you will be able to interact fully via the chat box and there will be time for your questions to be answered. You'll also receive our TAKEAWAYS …these are next steps to help you grow a stronger and thriving relationship together.
Why not take a look at our library of previous Couples Talk and Takeaways.
Booking
As this event is our gift to you Entry is FREE, although you will need to pre-register. If you are living in the same place as your partner, please register for 1 ticket and use the same device to connect to Zoom. (Please check your junk/spam folder for the zoom link, if you cannot see it after registering).
If you are in separate locations, you will need to register for 2 tickets, so
you can use more than one device to access Zoom.
Book your FREE ticket here.

This event will also be live-streamed onto the FamilyLife facebook page.

In case you need more convincing, below is some feedback from those that have attended a Couples Talk event already.
"Amazing story, love your family. Such wisdom and learnings this evening." "Thanks Family Life, these couples talks are so useful and helpful."
"Thank you so much for this evening, very special family and we are most grateful for your vulnerability and authenticity, big BIG love to you!"
"Thank you for sharing your story it's been very encouraging and it helps us to keep believing we can get through difficulties."
FamilyLife is a charity which operates on the donations of others. We don't charge for our events but if you would like to donate to FamilyLife you can do so here: